Benefits Enrollment Guide (20-page, Outdoor Vibrant Design)
Add to Wishlist
Your employees will appreciate this comprehensive and easy-to-read benefits enrollment guide covering all types of benefits -- health care, 401(k), life & disability, voluntary benefits and more. You submit your plan designs and we do 90% of the work for you!
When enrolling in benefits for the first time or during your enrollment period, your employees need to know how their benefits work so they can choose the ones that best meet their needs and budget. This 20-page, tailorable benefits communication guide template gives your employees all the information they need — no more, no less — to understand their benefit choices. As written, it includes:
Letter from a leader or other key messages

Eligibility and who you can cover

Paying for your benefits

Instructions on how to enroll and information about making changes during the year

Medical and key terms to know

Prescription drugs and key terms to know

Dental

Vision

Health Savings Account

Other accounts (HRA and/or FSAs)

Company-provided and supplemental life and disability insurance

Voluntary benefits

EAP

401(k) highlights

Important contact information

Medical, dental and vision rates
Watch the video to see or read each page.
SURPRISE!
When you order any of the guides, we also give you a FREE matching ACT NOW! enrollment poster (including tailoring with your logo at no charge).
The perfect blend of off-the-shelf and custom. We do the work for you!
With this tailored guide, you will benefit from the expertise of award-winning communicators and graphic designers with years of communicating benefits, as well as the flexibility to include some custom content in designated places and choose optional page layouts in several places: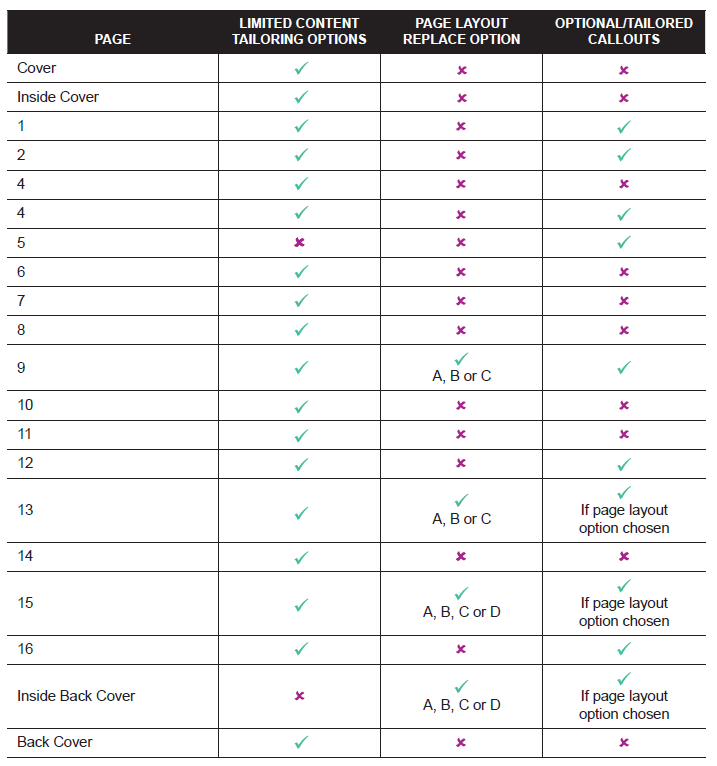 The tailoring process is easy:
Step 1: You'll upload your logo, plan design and other content via an online form
Step 2: We'll create your guide, and send you a proof.
Step 3: You'll proof it against the information you submitted and either approve or request corrections
Once complete, you'll receive access to a final pdf. It's the perfect blend of off-the-shelf and custom for an affordable price.
When and how to use:
Employees enrolling in their benefits for the first time or the 20th time will find this benefits and 401(k) enrollment form template guide to be a valuable tool.
Post as a PDF on your intranet/portal/microsite

Print and mail to current employees' homes

Send to high-potential candidates
Other sizes you might want to look at, too:
4-page highlights ($1,500)
8-page standard ($2,500)
12-page comprehensive ($3,500)
Series: Benefits Enrollment Guides — Outdoor Vibrant design